The second in our Meet the Team series is Vic Taylor – Arts Award Training Coordinator and super talented illustrator.
When my friends wanted to be doctors and vets, as a child, all I ever wanted to do was go to art college – the idea of being able to spend all my time making art filled me with excitement. I'm lucky enough that my dream became a reality and I'm now not only making a living from my art but helping encourage other young people to pursue the arts through Arts Award.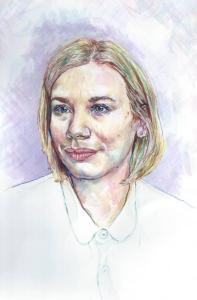 I have worked at Arts Award in various capacities since 2012. My current role is part-time supporting the Training Team, helping with the coordination of our nationwide training program and answering queries from the public about the first stages of becoming an Arts Award adviser. The best thing about my job is working with so many dedicated people who are eager to make everyone's experience of Arts Award a pleasure.
When I'm not at Arts Award, I'm a freelance artist and illustrator. My degree in Illustration at Kingston University was a very inspiring but demanding course; it really prepared me for the realities of working in the freelance illustration world. After graduating I worked at various Arts and Community Centres across the South Coast; I ran my own craft classes for primary school children and even helped with a group of young people on their Bronze Arts Award. I was constantly drawing and painting in that time and sold my work in shops and galleries.
My style is quite unusual nowadays as my work is all done by hand before being tidied up on the computer. A lot of illustrators tend to work digitally whereas I mainly draw with colouring pencils and marker pens; I absolutely love stationary and never leave an art shop empty handed.
The best thing about being an artist is knowing strangers have something you've created hanging on their walls
A typical illustration day actually involves a lot of admin: from answering emails and chasing payments to contacting potential clients and promoting myself on social media. The rest of the time I do get to draw; I sell my prints in shops and online and work on commissions. In between jobs it's important to keep momentum up and I regularly attend art classes for inspiration.
When working on a commission, there's a lot of back and forth of ideas with a client. A brief is received then roughs of ideas are sent over; changes will be requested, the idea is worked up and more amendments made after a final consultation. My favourite commissions are actually the ones I receive privately for portraits. I love painting or drawing them and revealing the finished product to a happy customer - the best thing about being an artist is knowing strangers have something you've created hanging on their walls; the hardest part is not necessarily knowing where the next pay check is coming from. The negatives are massively outweighed by the joy of doing something I love every day.
See more of Vic's work at: