Next up in our Meet the Team series is Andrea Pierides, Arts & Cultural Officer. Read on to find out about Andrea's role at Arts Award and her other work as a drama practitioner.
My name's Andrea and I'm the Arts and Cultural Officer for Arts Award at Trinity College London. This means that I support the arts and cultural sector (arts organisations, venues, galleries, independent practitioners, etc) with their delivery of Arts Award.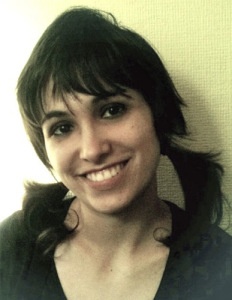 Not only do I provide email and phone advice to advisers, but I also create resources, manage the Good Practice Centre programme and a number of our partnerships, such as the Royal Shakespeare Company and the Family Arts Campaign. Although I love all aspects of my role, my favourite part is working with different partner organisations, establishing our common goals and seeing how we can work together to achieve these and support more people to deliver Arts Award in different ways.
I've been in this role for ten months as maternity cover and so, prior to working on Arts Award, I worked as a project manager within arts education across a number of different art forms over the last six years. One of my highlights was working as Education Coordinator for Macbeth Blood Will Have Blood – an immersive production of Macbeth for 9-13 year olds – and supporting with adapting it into a one man show, which is touring again this autumn (and a great fit with Explore for primary schools).
Although I've worked across different art forms, my background and specialism is within drama and theatre. Throughout my career I have also dipped my toes into other creative endeavours, such as writing a children's story that developed into an outdoor family show, Splash!, which went to a number of festivals in summer 2013.
More recently I've developed my skills as a drama facilitator and enjoy leading drama workshops for different members of the community. Between 2013 and 14, I was selected onto the Almeida's trainee workshop leader programme, which gave me a fantastic opportunity to reflect on my practice, recognise my strengths as a facilitator and further develop and perfect my facilitation style. Over the year, I worked with the Almeida on a number of projects with both schools and young people outside of school – connecting these with the Almeida's productions. Since then, I've run workshops for schools doing Shakespeare Schools Festival, for youth theatre members at Central School of Speech and Drama and delivered a project with people with dementia in partnership with the Almeida and Arts 4 Dementia. Working with people with dementia and their carers was one of the most rewarding projects I've done to date. It was really fun to work with a group that have no reservations, particularly with improvisation, and to see how drama activities sparked their imagination, creating new stories and characters.
Delivering drama workshops and facilitating projects, has been a great way for me to combine my love of working with people in the community (particularly young people) with my passion for theatre-making. As a drama facilitator, I love devising new work with groups and putting the ownership of that process into their hands. This provides a great sense of achievement for the group and also encourages a lot of learning along the way – through both building their drama and creative skills and other life skills like team work, leadership, communication, etc. Delivering drama workshops also supports me with my everyday work as Arts and Cultural Officer, it gives an insight into the challenges faced by practitioners working with young people and allows me to consider ways to best support people on the ground delivering Arts Award.