Arts Award for You is a new online resource designed to demonstrate the benefits of delivering Arts Award in your setting. It brings together some important, useful information into one place so that no matter what sector you work in you can find what's relevant to you!
Here's what you can expect...
Something for everybody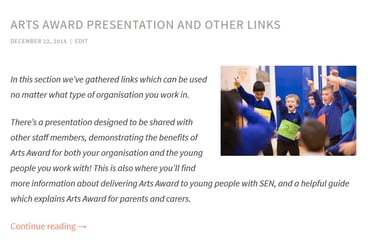 We want to arm advisers – or anyone else interested in delivering Arts Award – with guidance that applies to them and the sector they work in. Arts Award for You does that, but it also includes some links which anyone can use. The first section carries these, including a general overview of Arts Award and information for parents and carers. We've also created a brand-new presentation which can be used to introduce other staff at your organisation to Arts Award. It's completely customisable, provides some helpful facts about what Arts Award is, and shares insights from other centres – across all sectors – about why Arts Award has been valuable to them!
From here, you can choose sections according to your sector:
For Schools and Colleges
The Schools and Colleges section includes links to demonstrate the value of Arts Award in the current landscape; to show how Arts Award can support schools in their Ofsted inspection; and links Arts Award to vital employability skills. We also have another brand-new resource which covers the ways that Arts Award can be used to support your Artsmark status, citing specific questions from the statement of commitment and all seven of the Quality Principles!
For Arts and Cultural Organisations
Within this section we've broken the sector down into further categories, making it easy for you to find what you need. There's an advocacy resource aimed at senior library teams; a guide, produced in collaboration with Kids in Museums, giving five reasons why your museum should delivery Arts Award; and suggested delivery models for a range of arts organisations! Everything here is designed to help you integrate Arts Award with the work your organisation is already doing, and encourage other staff members to get on board.
For Youth and Community Organisations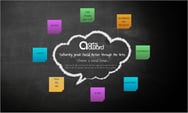 The Youth and Community page draws together information about employability, National Citizen Service (NCS) and social action, demonstrating how Arts Award can be used to support work in each of these areas. We want to show how the reflection, challenges and youth-led nature inherent in Arts Award can complement the projects your organisation is undertaking already!
For Arts Award
Arts Award for You has been created with you – the advisers, teachers, youth workers, librarians, practitioners – in mind. We want it to be a tool to answer the questions you or anybody you work with might have about Arts Award, and we want it to be relevant to your organisation. So let us know how you're using it!
Have you shared the presentation with senior members of staff? Have you used some of the links to answer your colleagues' questions about Arts Award? Have you read a guide which helped you embed Arts Award into your work? We want to know.
You can send any feedback about Arts Award for You to artsawardenquiries@trinitycollege.co.uk, or speak to us on 020 7820 6178.