By this time of year, moderations taking place in June and July will have been booked. And as the date approaches you might be wondering what happens next. That's where we come in!This week we wanted to go through what you can expect – and need to do – now that your moderation is booked.
Explore moderations
Explore works slightly differently to Bronze/Silver/Gold moderations, in that you send us the young people's details to book the moderation. We'll be in touch shortly after to request a sample of arts logs from the group, and this will be moderated in our office. You can book an Explore moderation by following the instructions on our website.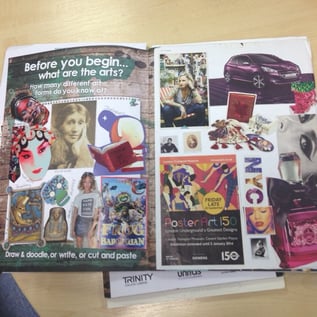 Remember, you will need to send off young people's arts logs within two working days of us generating the sample, so make sure that the work is finished before requesting a moderation!
Bronze/Silver/Gold: do I have to confirm names straight away?
One of the questions which comes up a lot is whether or not we need the names of your young people when you book a moderation. The short answer is "no".
The deadline for confirming names is three weeks before your moderation date. We'll accept these details at any point after your booking has been confirmed, but if you're still working with the group and the numbers haven't been finalised then don't worry! As long as you can get those to us three weeks ahead of the moderation then you can take some time.
Likewise, it's okay if the number of young people you gave in your booking changes slightly. We know that these can go up or down depending on the group so we'll only finalise that once you confirm the names.
Bronze/Silver/Gold: Joint moderation
After all the centres taking part in a joint moderation have confirmed their young people's details we'll draw up a timetable of the day. This will include the venue details and a schedule for each centre's moderation. You don't need to be there for the full day, only when your centre has been scheduled.
Bronze/Silver/Gold: Postal moderation
If you have a place booked on one of our postal moderations you also need to consider getting portfolios out to the venue. All portfolios should be received no later than one week before the moderation, so take that into account when planning any remaining delivery and assessment. After the moderation all work will be returned to you by courier along with written feedback from your moderator.
When will certificates be sent?
Explore certificates are issued 6-8 weeks after you confirm young people's details. We send Bronze/Silver/Gold certificates 4-6 weeks after your moderation has taken place.
Because so many Arts Award centres close over summer we don't send out any certificates in August, so if your moderation is taking place in late June/early July you'll receive these at the beginning of September.
Hearing from your moderator
Anyone who has a joint or standard moderation will receive a call from their moderator a few days ahead of the moderation. This is an opportunity for you to mention any additional information they might need to know – it can range from where they can get parked, to any young people with individual learning requirements.
With postal moderations – at any level – your moderator won't be in touch. You may hear from a member of the Arts Award team if there are any queries ahead of your moderation, but on the day itself you don't need to be available.
Requesting reasonable adjustments
We're committed to making Arts Award accessible to all young people, and can make reasonable adjustments to your moderation if requested. If you would like to request adjustments – for instance, additional time on the day to allow for individual learning requirements within your group – you should contact the team as soon as possible to discuss this.
Not sure? Ask!
We posted some top tips on preparing for moderation last year, and if you have any questions at all about Arts Award you can always contact the team on 020 7820 6178 or email artsawardenquiries@trinitycollege.co.uk.
Good luck!