Just over a year ago, the BBC launched the Get Creative campaign and on Saturday 2 April 2016, they are inviting everyone from all corners of the UK to celebrate arts and creativity. Here's how you can take part!
The Get Creative campaign recognises and celebrates arts, culture and creativity happening every day across the UK and encourages new opportunities for everyone to take part in creative activities – including children and young people. The idea is for organisations of all shapes and sizes to put on creative events that absolutely anyone can access.
Launched in February 2015 by the BBC and What Next? with help from Timothy Spall, Johnny Vegas and Lily Cole, the campaign now has over 1000 Get Creative Champions – and Arts Award is a proud Champion!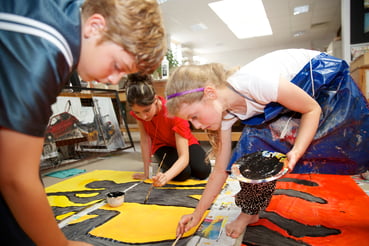 So how can you get involved in BBC Get Creative Day?
Sign up as a BBC Get Creative Champion and show your commitment to celebrating creativity across the nation – it's quick, free and easy.
Hold a Get Creative event on 2 April – use an existing arts activity and badge it or try something new – it's up to you! The important thing is that everyone is doing it together and having fun.
There's lots of inspiration and ideas on the website, so do take a look. If you're planning a Get Creative Day event, let us know and we'll help spread the word!
And in Wales, a whole weekend of celebrations is afoot!
Get Creative Weekend in Wales
BBC Wales and Arts Council Wales have partnered up for a Get Creative Weekend (1 - 3 April 2016). Arts, cultural and voluntary organisations, groups and societies from across Wales will be staging events and offering activities to celebrate the nation's creativity. You can find out what's on in your area at www.bbc.co.uk/getcreativewales or www.bbc.co.uk/cerigreu
To kickstart the weekend there will be a broadcast hub for BBC Wales at Galeri, Caernarfon. BBC Radio Cymru and BBC Radio Wales will be broadcasting live. Join the conversation #BBCGetCreative #BBCCeriGreu
Contact Hannah Lambert, Project Manager for Get Creative if you have any questions: hlambert.projects@gmail.com