If you're an Arts Award adviser in England working with young people who struggle with access and inclusion issues, why not apply for an Access Fund grant to support the delivery of your Arts Award project with them?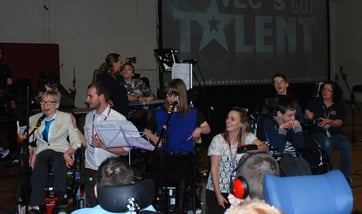 Applications are open now online via the Arts Award website and close at 5pm on Friday 3 March.
You can apply for a grant of between £100 and £1,500 through the Access Fund if you're looking to pilot, embed or develop Arts Award with these young people.
Why have an Access Fund?
Take a look at our previous blog post to find out why we have the Access Fund and how it can support your project by covering the costs of things such as; equipment, materials and arts logs, tickets and travel to events, adviser delivery time, and moderation/certification costs.
How to prepare your application
When preparing your application, make use of our information and guidance resource and draft your application in our mock application form. You will also need to prepare a project budget using our budget spreadsheet. Make sure you check that moderation costs are correct, and if you would like a standard moderation that you factor in the minimum fee.
We recommend you have a read through of our resource top tips for success with Access Fund applications and our blog post Tips to Make Your Application Stand Out which gives you five key pieces of advice to make your application stand out.
How can the Access Fund help you?
Access Fund has had a great impact on Arts Award centres. Read more about how the Access Fund helped these centres:
Young people produced a multimedia exhibition around the theme of 'Smokescreen' comprising photography, film, textile art and music. The project allowed the young people to investigate and produce creative responses to the idea of a smokescreen - both literal and metaphorical. Their band also performed several times over the period of the grant and they wrote songs and delivered workshops on song writing.
For many of our young people an Arts Award is the first qualification that they have ever achieved. This, along with public recognition through gigs and exhibitions had a major effect on their self-esteem and confidence. They have also experienced growth through visiting a range of exhibitions and performances.
44 young people, the majority of whom suffered with a physical disability or hearing impairment, participated in RoguePlay's work experience programme which offered them the opportunity to work with a number of industry professionals. They were able to develop their creative and leadership skills, gain practical knowledge of varied art forms and an insight into the day-to-day running of a theatre company.
The young people spent two weeks with the company, taking part in training sessions and workshops in poetry, drama, physical theatre, dance, photography, marketing, theatre production and aerial circus. They were able to observe the company during rehearsals and production periods and took on practical roles to assist the company in preparing for public performances.
Many of the young people involved in the programme commented that it provided them with a unique experience as well as enabling them to learn new skills. They not only reflected on the creative skills they gained but also upon the personal and social development that the experience provided.
"It really taught me how to collaborate with people. I enjoyed working in groups. At the start I was less open to doing stuff, over time I gradually became more comfortable with doing stuff."
Start preparing your Access Fund application today and make sure you submit it before 5pm on Friday 3 March! We will let you know two weeks after this deadline whether or not your application has been successful. Good luck!
Please note you must have registered as an Arts Award centre to apply for the Access Fund – see our website for details on how to do this.