What is a Good Practice Centre?
Each year Arts Award centres can apply to be selected as Good Practice Centres. Chosen from across all sectors, these centres bring a breadth of experience of delivering Arts Award successfully.
Good Practice Centres inspire existing and potential Arts Award advisers by sharing their practice and advocating for the award in their communities and more widely. They take part in a range of activities throughout the year to do this. In return, we celebrate their achievements, profile their success and promote their work as part of our support offer to advisers.
What do I need to demonstrate to apply?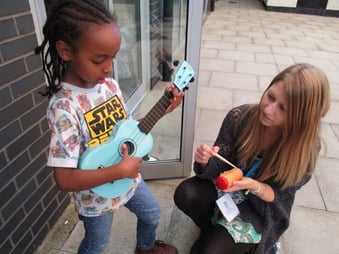 Centres will need to demonstrate that they meet all of our essential criteria including, having had at least one successful moderation and strong links with their community and/or other organisations, as well as one of the desirable criteria. You can find out more about what is required by downloading the Good Practice Centre Brief for 2017-18.
Most importantly, we are looking for centres who are passionate, committed and excited about Arts Award. If you think you have a great Arts Award success story to tell, and can share this with your networks, we want to hear from you.
How will I get involved as a Good Practice Centre?
There are lots of ways you will be able to get involved as a Good Practice Centre. From creating a blog or vlog for this very site, to hosting a celebratory event - there will be plenty of opportunities to share your practice and make new connections in your local area. You will also need to attend a training day in London in April 2017, as well as an evaluation day in July 2018 to share your thoughts and feedback on the programme.
Good Practice Centre timeline
Monday 17 October 2016 – applications open
Monday 6 January 2017 – applications close
March 2017 – successful Good Practice Centres notified
April 2017 – training day in London, and the Good Practice Centre status begins
April-September 2017 – planning for the Good Practice Centre year
September 2017 – Good Practice Centre delivery begins
July 2018 – all Good Practice Centre activity to be completed. Centres attend an evaluation day and the Good Practice Centre status comes to an end
Find out more about the Good Practice Centres from 2015-16.
If you have any questions, contact the Arts Award Support Team on 020 7820 6178 or artsawardenquiries@trinitycollege.co.uk
We look forward to hearing from you – so apply now!