We return to focusing on Mozfest this week on the blog and take a look at some of the key highlights of the October Festival in addition to providing you with some inspiration for getting digital with Arts Award.
Mozfest is the world's leading festival for the open internet. In October 2016 Arts Award hosted the Digital Arts and Culture Space at the festival at Ravensbourne in London. If you were unable to join us, here's a roundup of what you missed and some inspiration for getting digital with Arts Award in 2017.
Why did Arts Award get involved in Mozfest?
We took the opportunity to get involved with Mozfest because we recognised it would be a superb event through which to position Arts Award firmly among the world's digital community. We were able to test out a range of digital arts activities that can be used for Arts Award, and we also provided an international platform for Arts Award centres, Supporters and young people to showcase their talents and ideas.
Mozfest stats
The festival was the largest Mozfest in the seven years since it began. 2,000 people attended and approximately 20% of visitors were children and young people.
Following an open call for submissions to the Digital Arts and Culture Space, we received 170 applications from across the world - this was the second highest amount of submissions of all the festival spaces and included an exciting array of proposals from Arts Award centres and Supporters.
What happened in the Digital Arts and Culture Space?
After extensive shortlisting, our space hosted 37 individual sessions or experiences, delivered by 11 Arts Award centres and Supporters, plus external partners including the BBC, University of the Arts London, the University of York and the National Archives. We also welcomed facilitators from Germany, Greece, The US and Romania.
At any one time, the Digital Arts and Culture Space was host to up to 100 visitors taking part in up to six different sessions. Young people from Arts Award centre, Orleans House Gallery ran a gaming hub and reported having over 80 participants at their two-hour session!
11 sessions in the Digital Arts and Culture Space were delivered entirely or partly by young people, four of these were leading workshops as part of their Arts Award.
Our Digital Arts and Culture Space at the festival set out to explore the relationship between art, technology and the web through workshops, discussions and demos. Sessions included:
a workshop about vlogging as an art form and how to get started
using assistive music technology for young people with additional needs
combining digital technology with theatre and movement
fusing Shakespeare and online game design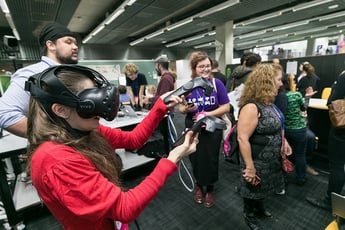 Because Mozfest champions the open internet (this is the concept that software should be free for users to do what they want and create their own products), the workshops in our space and the technology they used were made accessible for participants to recreate back in their own settings. In 2017 we'll be sharing more details about some of the sessions and how you can deliver similar activities with your young people.
Arts Award Discover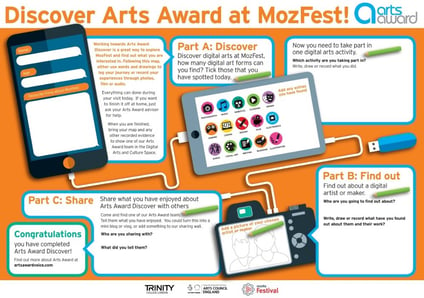 We had a specially designed Arts Award Discover map made for young people to use as they navigated the festival. 150 Discover maps were distributed over the weekend and 28 Discover certificates were achieved. Young people took part in digital arts workshops, found out about digital makers at Mozfest by meeting them and asking them questions, and then came back and shared their experiences with our Arts Award festival team.
Mozfest Fringe blog posts
During October you might have caught the Mozfest Fringe here on our blog. The Fringefeatured eight blogs across two weeks highlighting digital arts and tech events happening throughout the country hosted by Arts Award Centres. The blogs received 121 individual views. To catch up on these, just search here on the blog using the MozFestFringe tag to see all of the posts.
Don't want to miss out?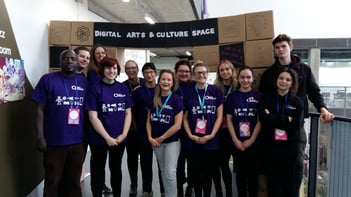 If any of this has got you wondering how you missed out on the Mozfest experience in 2016 and how you might get involved in 2017, just keep an eye on our blog and the termly adviser enews so that we can keep you updated. You can also contact Julie Neville to make sure you hear about opportunities first. Here's some ways you might choose to get involved:
Are you a teacher or youth leader? Bring your young people along to Mozfest in October 2017 (youth tickets just £3, educators go free, and bursaries available for groups unable to fund the entry fee). Check out our Mozfest resource to start getting prepared.
Try getting digital in your own Arts Award setting. Take a look at our adviser resources for tips on ensuring the project meets the Arts Award assessment criteria
Take a look at the wide range of interviews and articles that the Arts Award Voice team of reporters created at Mozfest 2016 in the Mozfest Voicebox. There's information about digital makers, digital arts organisations, technology trends and young digital leaders to inspire all levels of Arts Award delivery.
Look out for our digital case studies and session ideas coming up in 2017