Arts Award Supporter is a free scheme for arts organisations to reach young people, teachers and Arts Award advisers. We looked at the importance of Supporters in our blog last year as we believe it is helpful for our Arts Award Supporter community to hear about how other organisations have developed their offer. With this in mind, we hear from Arts Award Supporter China Plate's Engagement and Participation Producer, Andrea Pieri Gonzalez, on how their organisation supports the scheme.
Our work
We are an independent theatre producing company based in the West Midlands – we make theatre, programme festivals and deliver artist development projects. Our mission is to challenge the way performance is made, who it is made by and who gets to experience it.
Our Supporter offer
As a trained adviser I was already familiar with what young people need to do to achieve their Arts Award so becoming an Arts Award Supporter felt like a natural fit. Our work is often aimed at audiences over 14, we tour nationally and we usually have something in development at any given time which provides access to a range of artists; from performers, directors and writers to composers, designers and production managers.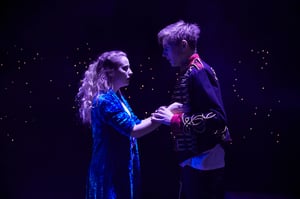 It's therefore easy for us to signpost young people towards shows to review, artists to find out about and the elements of our artist development programme. We also often have a show touring for a younger audience (9-13 year olds) – at the moment that's Romeo and Juliet – Mad Blood Stirring. This programme is aimed at Y5 - 8 and consists of a performance, workshop, CPD and online resources. Watch the trailer here.
For the first time we have designed bespoke log books for Arts Award Discover and Explore. We've mapped the programme against our own offer so that it's easy for schools to see how they can achieve an Arts Award by taking part in our programme. Whilst we cannot deliver Arts Award on this project (as we are touring around the country with the show), we have been in conversations with host venues (many of whom are Arts Award centres) to see if they can support their local schools to achieve this.
Benefits for the organisation
Offering bespoke Arts Award log books around our programme is useful for a touring company to be able to provide as it means that we can support venues to build longer-term relationships with local schools and help to meet their own targets around Arts Award.
Whilst we are still at the early stages of building our Engagement and Participation offer, Arts Award Supporter has been a quick and easy way to identify how we can support young people to connect with, be inspired by and learn from the wider arts community from what we do already.
Romeo and Juliet – Mad Blood Stirring is touring until 23rd March 2019. Find out more.