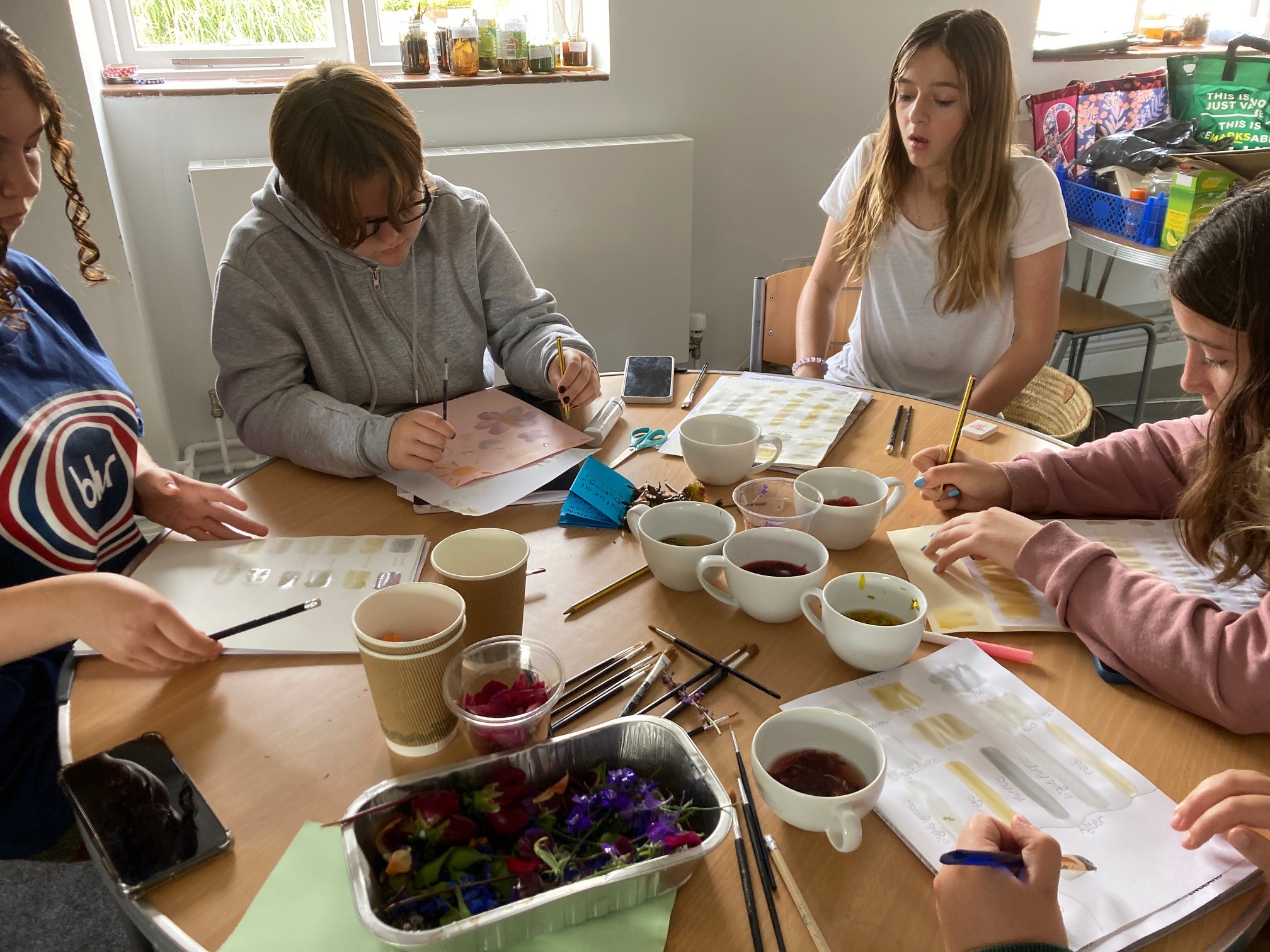 Creating unique artworks from food waste and foraging

Continuing our sustainability theme on the blog this month, Joe Carr from the Community Team at Britten Pears Arts tells us about their Holiday Activity Fund (HAF) project from the summer where a group of young people worked towards their Bronze Arts Award; exploring nature, natural dyeing techniques and creating artworks from natural waste and food waste.
Britten Pears Arts (BPA) is a heritage, music and arts charity which includes two sites; The Red House, Aldeburgh and Snape Maltings Concert Hall in Suffolk. The BPA Community Team use music and heritage to engage with people of all ages, from schools to young people and older generations. We were delighted to be accepted as an Arts Award Trinity Champion Centre this year, and we offer a range of opportunities for young people to achieve an Arts Award.
This summer BPA were pleased to be part of the Holiday Activity Fund, offering free food and activities for young people over the summer school holiday period. Based at The Red House, a week of activities were developed by the Community Team, which were focused on engaging with teenagers aged 13-16 years. As part of this experience all young people worked towards achieving a Bronze Arts Award.
Natural dyes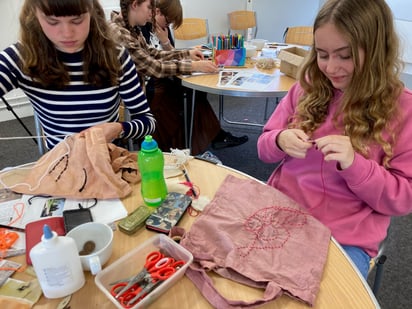 Young people aged 13-16 have been a traditionally difficult group to reach and engage with across both sites at BPA, however we were delighted to work with 15 young people across the week. They took part in a week-long course of activities at The Red House, where they worked with the artist, Caroline Hyde-Brown to develop natural dyeing techniques and unique artworks by exploring food waste and plants from across the five acres of The Red House garden.
The young people spent the week learning about the process of creating and applying natural dyes and discovering how to dye protein and cellulose fibres with food waste such as coffee, teabags, banana peel and onion skins. They explored the stove-top method and immersion dye techniques to produce an array of colours and a collection of dyes.
The week began with the young people learning about the problems of food waste globally, and the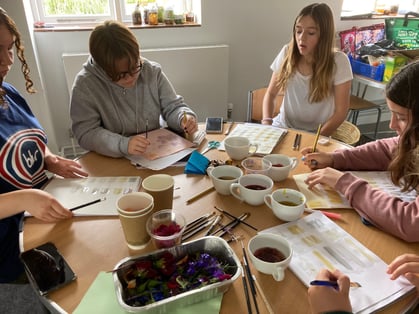 natural dyeing techniques, as well as having the chance to learn about plants and explore the Red House gardens by taking part in foraging activities. This gave the young people a chance to get to know each other in a relaxed environment as well as to experience nature.
The dyes would be used to create a range of artworks including tote bags and watercolour works. The young people's aim was to work towards developing a group exhibition where they would share their final artworks with friends, family and visitors at the end of the week.
Bronze Arts Award
Throughout the week the young people were guided through the Arts Award framework and time was set aside for them to complete their logbooks. For Part B (Explore the arts as an audience member), they completed a review of The Red House and Exhibition Gallery and worked with staff to develop a presentation to share with the rest of the group. To learn about an artist (Part C Arts inspiration) the young people researched items from The Red House collections, and interviewed the artist Caroline Hyde-Brown, finding out about her career and work in the arts.
B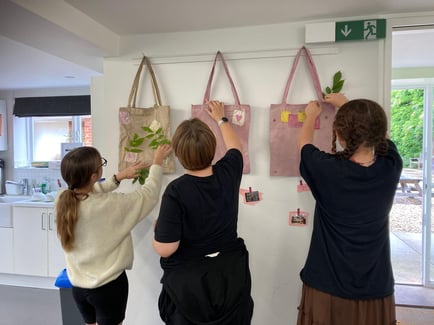 y Friday, the young people had developed a variety of artwork (Part A Explore the arts as a participant) using their natural dyes and had formed a team to create an exhibition in the education space at The Red House. Working in small teams, they took responsibility for various parts of the exhibition; from developing text panels, to room set up and display.
The exhibition provided an opportunity for the young people to share their work but also to present talks to their family members and other visitors about the natural dyeing processes they used over the week. This helped feed into their Arts Award (Part D Skills share) and was a moment for the young people to feel proud of their achievements and commitment over the week.
Related posts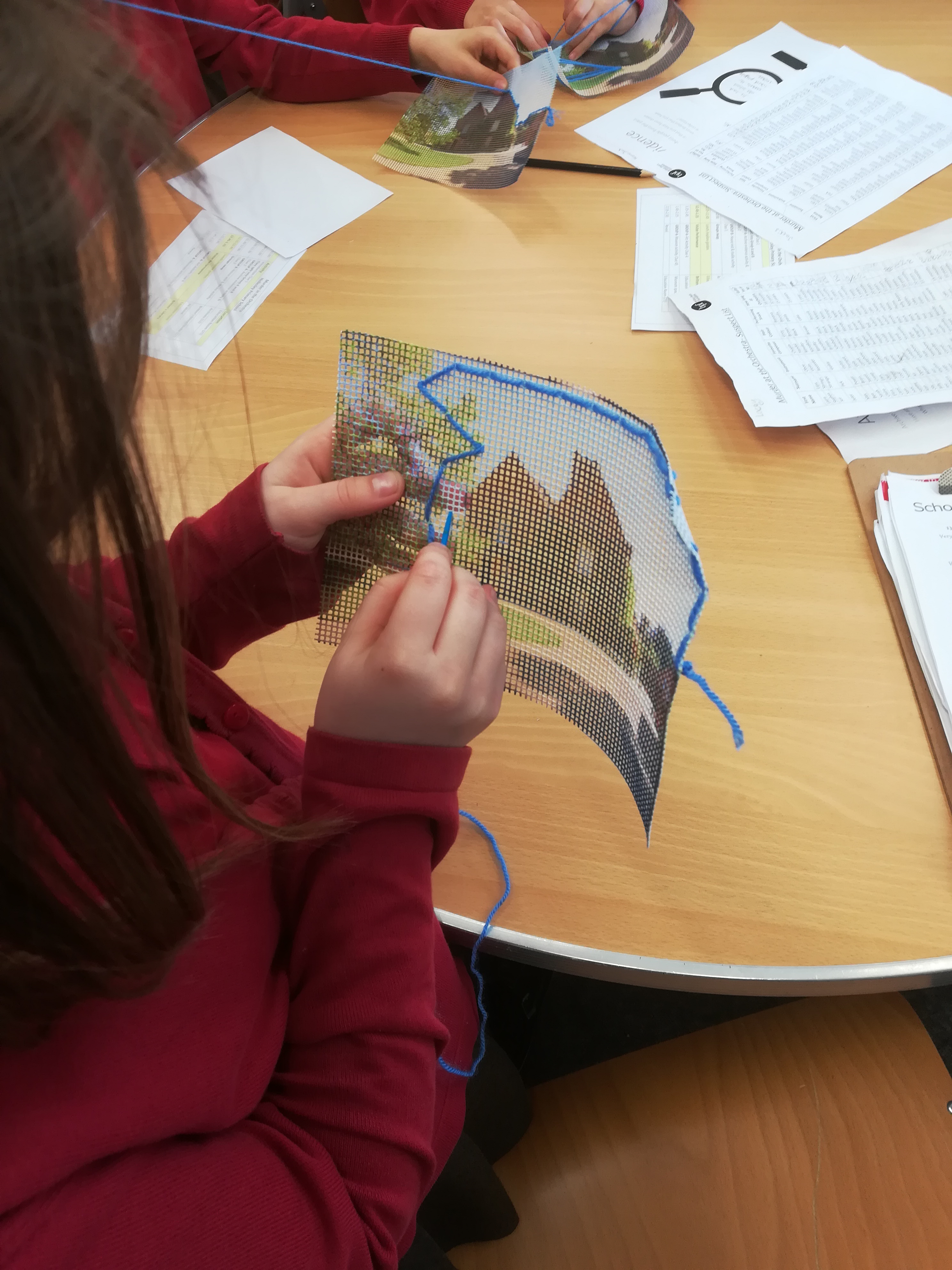 BY: Guest Writer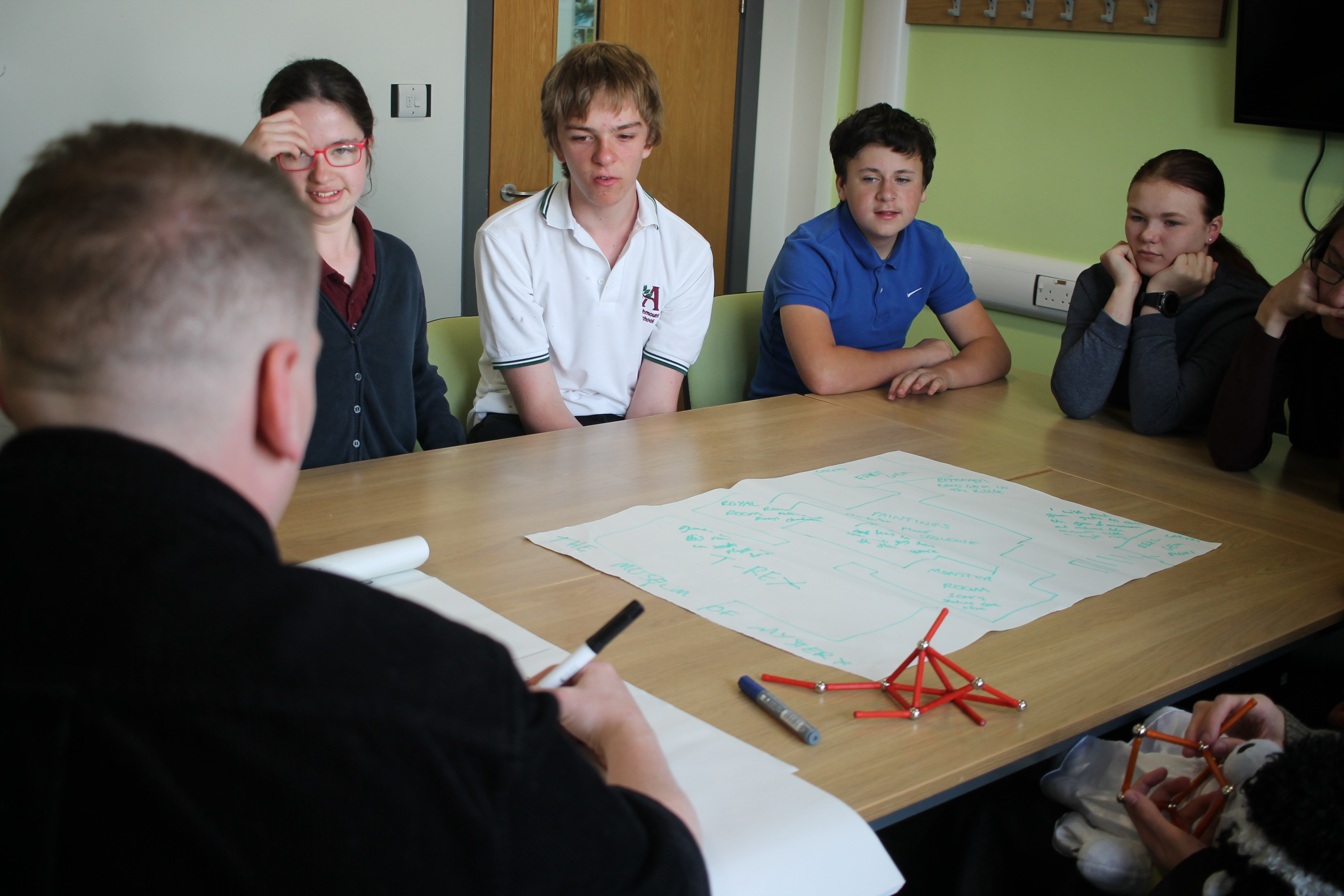 BY: Guest Writer