If you're an Arts Award adviser, hopefully you've heard about the Access Fund. It provides Arts Award centres inEngland with grants of up to £1500. There are two application windows each year, and applications are open now for Round 2 2015. What you might not know about the Access Fund is the incredible impact it's had on the young people and centres it's supported over the years.
Who's the Access Fund for?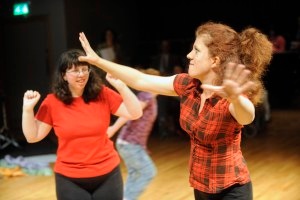 The Access Fund is focused on supporting registered Arts Award centres who are working with young people for whom access and inclusion is an issue, to enable them to take part in the arts, and achieve an Arts Award – a national qualification.
Why have an Access Fund?
The arts have the power to inspire, to entertain, to question, and to help us understand the world around us. That's why ensuring everyone has the same opportunities to access the arts and culture is important. Taking part in Arts Award can often have a huge impact on young people's lives, their aspirations and self-esteem.
But for many young people the opportunity to engage with arts and culture is lacking. There are lots of reasons why this might be, whether it's financial, a lack of local provision, health issues, or personal circumstance. The Access Fund supports these young people to have the same opportunities as their peers so that everyone has the chance to express themselves creatively and be inspired by the arts.
What is 'access and inclusion'?
At Arts Award we recognise there may be a range of barriers that young people face to participating in the arts, including young people who:
are disabled
have special educational needs or learning difficulties
live in areas of rural isolation and/or socio economic deprivation
are in the youth justice system
are looked after, by foster carers or in residential children's homes
are young carers or young parents
are in a specific minority group (e.g. LGBT, BME, homeless, traveler, asylum seeker, refugee)
are not in full-time education, employment or training
are hospital outpatients/inpatients or suffering long term health problems
Who has the Access Fund helped?
The Access Fund has been running since 2007 and since then has supported hundreds of Arts Award centres and thousands of young people. Here are a few snapshots of centres that we've supported:
The Arts Excite, received £1485
The Arts Excite worked with a local charity and a group of young people to create a film to raise awareness about domestic abuse. Most of the young people were living in sheltered accommodation and were not in education, training or employment at the time. Since receiving the grant for this pilot project, the Arts Excite was able to gain a further £22,000 from other sources to continue their work.
'The Arts Award Access Fund has been one of the key factors in helping us to get The Arts Excite off the ground. Without it we would not have been able to run a pilot project and gain the momentum that we have.'

Jordon Maynard-Daley, Arts Award adviser
According to McGee ran a summer Art Camp with a group of young adults with learning disabilities and a range of complex needs.
'The Bronze Arts Awards themselves made a massive difference. All of the participants have very complex needs – indeed, Holly had never picked up a paintbrush or pencil in her life. To work towards rigorous targets made for a very fulfilling challenge. It was Holly who, after the Arts Award journey, had the confidence to choose the colour scheme for her new flat (Holly can only communicate through smiles): her carers and family are astonished by her new confidence in this area.'

Greg McGee, Arts Award adviser
York Mind, received £1,010
York Mind worked with young people on a variety of projects (photography, craft, creative writing, animation) to support them with their recovery from mental ill health. The animation group worked together to produce a short piece aimed at reducing the stigma around mental health, which was shortlisted for a regional award as part of the Love Arts festival.
http://www.youtube.com/watch?v=LI-10Yw-Cjg
'Of the 12 people who have completed their arts award with us, we have seen fantastic developments which include, four people moving on to work, three into further training; which includes university, one volunteering at a local theatre and one into a community based theatre group. This project has helped young people who are experiencing mental ill health to increase their confidence in a group setting, and to develop informal peer support groups.'

Arts Award adviser

'The project helped me to realise that I have a support network to turn to when times are low.'

Arts Award participant
Interested in applying? Visit www.artsaward.org.uk/accessfundinfo
The Access Fund closes at 5pm on Friday 23 October