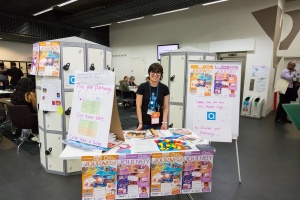 MozFest-tastic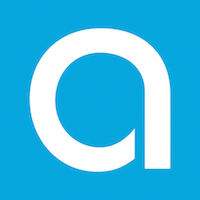 Arts Award Associate for youth and community, Julie Neville, tells us all about taking Arts Award to MozFest this November, and the growing potential for delivering the award through digital arts.
I've been supporting EPIK, a Kent-based Arts Award centre dedicated to Encouraging Programming in Kids. EPIK has been developing resources designed for schools and youth clubs to encourage the delivery of Arts Award through coding, Minecraft and other tech.
When I heard that the director at EPIK was also a regional co-ordinator for Mozilla Clubs and she was going to be running the Youth Zone at this year's MozFest, I jumped at the chance to get Arts Award involved.
What is Mozfest?
MozFest is an annual festival held at the amazing Ravensbourne venue beside the O2 in London, attracting both adults and young people. It is run by the Mozilla Foundation who promote openness, innovation and participation on the internet. Mozilla aims to build a new generation of digital creators and webmakers, giving people the tools and skills they need to move from using the web to actively making the web.
Over 350 workshops and sessions take place across the festival weekend for more than 2,000 visitors. Our aim was to bridge the divide between creativity and technology and to demonstrate how Arts Award can be achieved through digital arts.
Getting started
On Friday, I joined together with the other MozFest facilitators for an induction day before the festival opened. Feeling a little bit like a fish out of water among hundreds of international digital experts, I was soon inspired by the buzz around the venue and threw myself into a great session led by Mozilla organisers from the US. Through some very clever teambuilding that involved grouping up according to our favourite ice cream flavour, and launching our individual details across the room folded up in paper aeroplanes, I soon found myself in a team with four people from India, Italy, Canada and Chicago. We were tasked with planning our MozFest journey to 2016 and all the actions we needed to take over the coming year to get there. After this genius intro session, I was ready to greet the Arts Award Voice team and get ready for our weekend! We were told by festival directors there would be plenty of 'savvy micro humans' (AKA young people) visiting the event, so it was time to embrace the creative chaos of the venue and plan our digital arts pathways.
Arts Award in the Youth Zone
MozFest is split up into eight learning spaces with themes including science, journalism, digital citizenship, and the Youth Zone. The Youth Zone is an area where young people can spend time without their parents, developing their own interests and skills. Organisers suggest a series of learning pathways to participants designed to develop their knowledge and particular interests. The role of Arts Award and Arts Award Voice was to create pathways for young people from the Youth Zone, out into the main festival – encouraging them to explore a range of activities and then report back to review and share their skills.
We offered the Discover Club in a day and an introduction to Bronze. Young people selected workshops from our menu of options run by other MozFest facilitators, including: learning to code for Raspberry Pi; printing a 3D robot; and creating stories using a virtual reality viewer. There were also a range of crafts on offer in the Youth Zone such as making friendship bracelets, loom banding and LED badges. Did you know that when doing intricate crafts such as these you use the same parts of your brain as you do when coding? Afterwards we supported participants to share, blog and vlog their learning as part of the award.
Across the weekend we had the pleasure of meeting some fascinating young people. Some were science and maths enthusiasts aiming to be future engineers, who perhaps hadn't considered that their interests in creating functioning worlds in Minecraft, making 3D animations, and coding using Sonic Pi were all embedded within the arts. Others grasped very quickly the link between Arts Award and digital technology, not hesitating at all to start Discover Part A and listing the art forms that they had already spotted at the festival.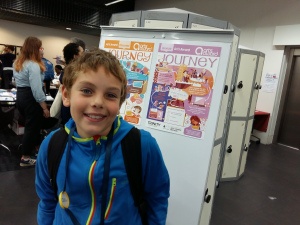 One memorable young person I met was Femi, aged 9. Femi is an expert coder with his own blog, and ran a workshop for other young people at MozFest all about physical computing. As somebody who has Tourette's Syndrome, Femi is aware of the importance of offering as many opportunities as possible to young people, and was keen to ensure his sessions were accessible and inclusive. 50% of participants in Femi's workshop were from Autism and Tourette's Syndrome families. Watch our interview with him recorded by the Voice activists!
MozFest is brought to life by the organic graffiti that covers stairs, floors and walls by the end of the weekend. Facilitators are encouraged not to bring lots of banners and merchandise, but instead to decorate the venue with their session promotion by hand. We got fully involved with this tradition by adorning the hallways with our posters, pathways and messaging. It seemed to work, as several other session leaders come to ask about Arts Award, and some teachers and parents took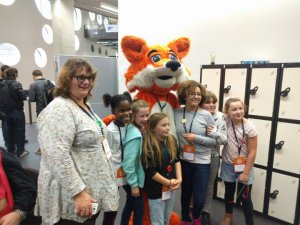 information back to their groups. Although we may have been a little upstaged by Foxy, the Firefox mascot who appeared on Saturday and stole the show!
Moving forward
Our weekend at MozFest was a huge eye-opener. It has set us on our own pathway in the digital technology sector and to promote further participation in Arts Award through digital arts. It has given us the opportunity to meet potential collaborators and to be inspired by the incredible buzz that technology is creating among young people and their communities. This is definitely a fast growing genre of the arts that we will be pursuing!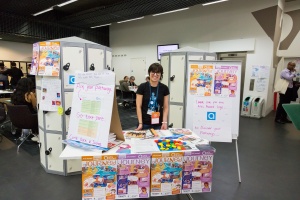 Read more about our activities at MozFest, the discussion around creativity and technology, including interviews with organisers and young people, in our Voicebox.
Take a look at our Twitter Storify from MozFest.
For more information, or to tell us about your digital Arts Award project, contact Julie
Related posts

BY: Julie Neville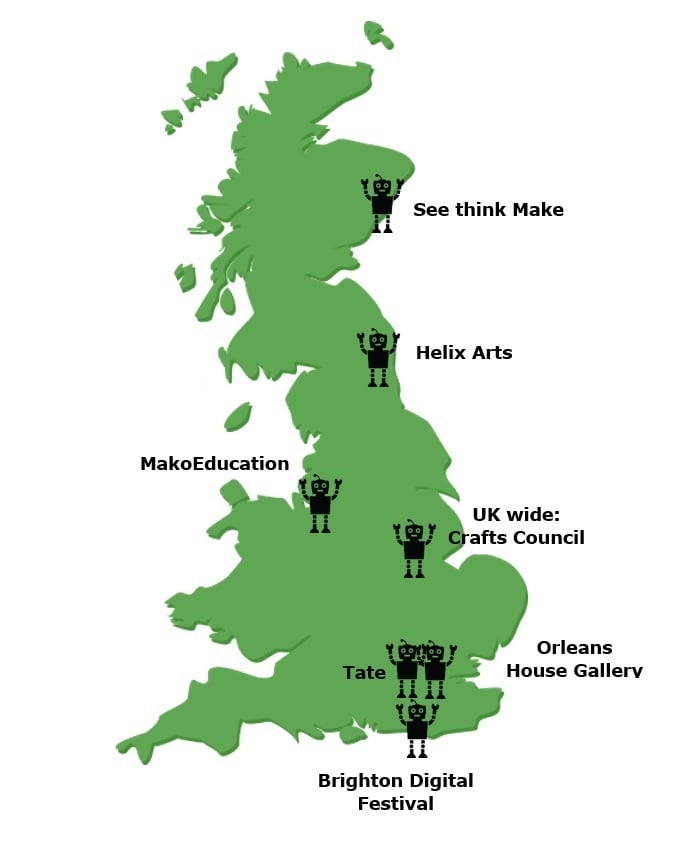 BY: Julie Neville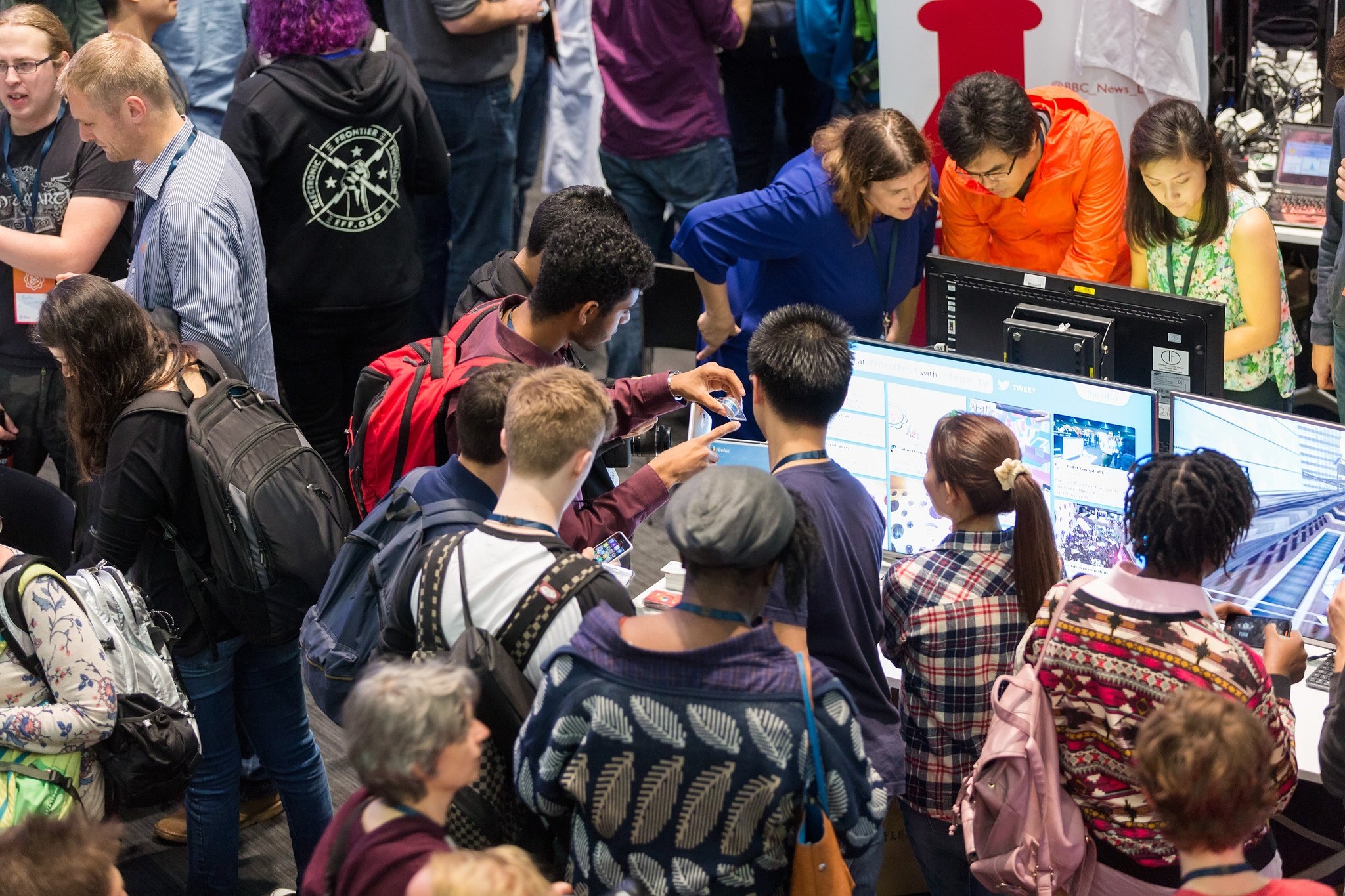 BY: Julie Neville