This Friday evening will see the opening of Mozfest in London, the world's leading festival for the open internet. Arts Award is excited to be hosting the Digital Arts and Culture Space at the festival from 29-30 October at Ravensbourne and we are busy preparing for up to 3,000 people to visit the venue across the weekend.
So what's all the fuss about?
If you've been following our blog for the last few weeks, you'll know that we've been promoting the Arts Award Mozfest fringe – a series of events happening this autumn across the country hosted by Arts Award centres focusing on digital arts and technology. Our aim is to inspire Arts Award centres to take up the digital arts challenge, by supporting you with ideas for engaging young people in digital arts activities and information about new apps and technology that can help to enhance the experience of visiting arts and cultural venues.
We've also prepared a range of adviser support materials centred around digital arts, featuring hints and tips for making sure Arts Award evidence meets the assessment criteria.
We're doing all of this because we believe that digital literacy for young people can only be fully inclusive if it embraces the arts. It's easy to think of learning about computers, coding and the web through STEM (Science, Technology, Engineering & Mathematics) subjects, but ensuring these skills are also embedded in the arts will support all young people to take part and develop their digital knowledge. The UK needs 2.3 million more digital workers by 2020 to power its economy, so there's no better time to be equipping young people with these skills, and no better way than to do it creatively!
What is it?
Mozilla is a free software community which champions the open internet - this is the idea that web users can go where they want, when they want, and develop their own products. Mozfest is their flagship festival which brings together the Mozilla community, tech lovers and young people to jam, play and create together.
Our Digital Arts and Culture Space at the festival will explore the relationship between art, technology and the web through forty different workshops, discussions and demos including music, animation, gaming, vlogging, digital design and virtual reality.
For those planning to come to the weekend itself, you'll find 12 Arts Award centres and Supporters delivering sessions in the Arts Award space. They will be joined by over 20 other individuals and organisations dedicated to showcasing exciting digital arts opportunities, including partners from the US, Greece and across the UK.
Here's a round-up of the Arts Award centres who will be joining us and what they have to offer:
Mercury Theatre will be sharing learning from their hACkT summer school which fuses theatre making with video game design and accessible technologies.
Young people from Orleans House Gallery will be introducing the exciting gaming hub they have helped to create with designers and artists for use by gallery visitors.
Bronze Arts Award participants from the National Maritime Museum Greenwich will be presenting their new Creative Greenwich films showcasing what creativity means to them.
Gamar will be helping Mozfest visitors to explore and interact with the festival through their Augmented Reality (AR) app as well as demonstrating their AR trails for museum and heritage venues.
Drake Music's DMLab Live will be introducing a range of specialist Assistive Music Technology (AMT) to support participants to play, jam and make music.
Carousel will be sharing their interactive graphic online novel Curing Perfect created by a team of learning disabled artists.
Young upcoming vlogger, Agi K will be supporting other young people to understand vlogging as an art form, then challenging them to make their own vlog at the festival to be played out via Arts Award Voice.
Arts Award Voice will be sharing their expertise in digital arts journalism and equipping participants with the basic skills to start their own blogging adventure at Mozfest.
Innov8 on Sheppey with Sheppey Street Studio will share a film made with their young members from Kent demonstrating how to make simple video games for the iphone using free software.
A Little Learning will be running two exciting workshops - iPad Orchestra, using ipads as instruments to rehearse and perform a piece of music in one hour, and Ro-Botticelli creating visual art using coding and robotics.
Shape Arts will host a discussion about using digital technology to break down barriers to the arts for young disabled people.
West London Arts Scene – Ealing Autumn Festival will be exploring processes used 200 years ago by Mozart, brought to life at the festival through digital technology and coding to create a piece of music.
You can see the full Mozfest session listings here.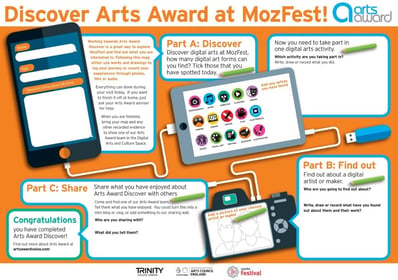 At Mozfest there will also be a Youth Zone filled with sessions including Raspberry Pi and Minecraft, a digital art exhibition called MozEx curated by Tate and the V&A, and a series of talks from worldwide web experts. We've created a special Arts Award Discover map for young people to use when exploring the festival. These can be picked up from the Digital Arts and Culture Space and if completed over the weekend, Discover certificates will be awarded free of charge.
Join us
MozFest is located at Ravensbourne beside the O2 in London with good transport links by road and rail.
Youth tickets are just £3 (under 18s) and educators go free.
Tickets provide access on both days as well as lunch, drinks and a goodie bag.
Youth groups requiring assistance with ticket costs can contact festival@mozilla.org, and remember to state that you are an Arts Award centre in your email. If you have any other queries, get in touch here.