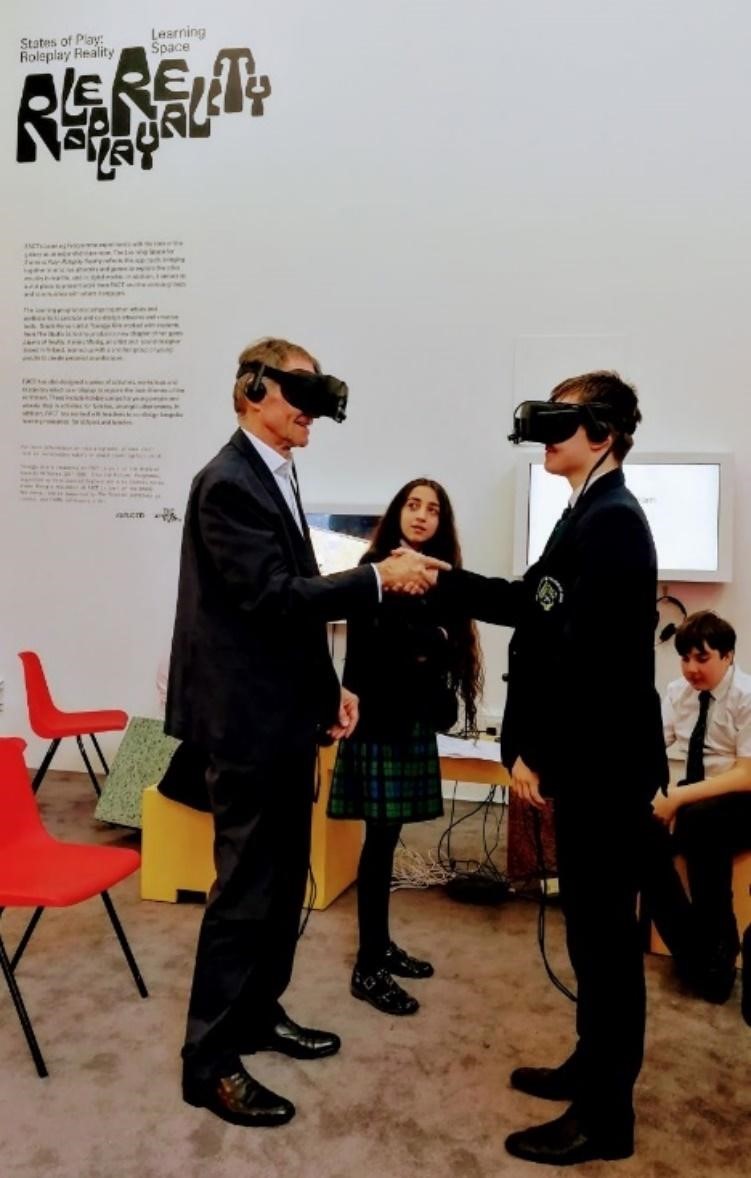 Sir Nicholas Serota experiences virtual reality with Arts Award group

This week Learning Technologist, Neil Winterburn at FACT, tells us about the moment a group of Year 7 students from the Academy of Saint Francis Assisi swapped Chair of Arts Council England, Sir Nicholas Serota's body with an Arts Award participant.
The Illusion
As part of their Bronze Arts Award students were sharing the skills they had gained with the art/science collective, Be Another Lab (BAL) and the FACT Learning team. During the project young people became experts at facilitating The Machine To Be Another (TMTBA), a virtual reality experience that creates the illusion of seeing through another person's eyes in real time. When we asked students if they would be up for swapping bodies with Sir Nicholas Serota, one of them asked 'Is he a YouTuber?'
Sir Nicholas sat down facing a curtain, a young facilitator put on his VR headset and introduced him to the experience, on the other side of the curtain a young person called Svetlo put on his VR headset and prepared himself. The illusion of seeing through the eyes of another person is created by switching the camera feeds of two paired Virtual Reality headsets and both people mirroring each other's movement slowly. As Sir Nicholas looked down he could see Svetlo's hands where he expected to see his own, a voice in the headset told them both to slowly follow each other's movements, so they spent a few minutes acclimatising.
Two young facilitators enter the set and perform a series of interactions with both Sir Nicholas and Svetlo at exactly the same time, including high fives, holding identical objects and looking into mirrors. When they looked into mirrors instead of themselves, they saw each other. Another two facilitators carefully removed the curtain that had been separating Sir Nicholas from Svetlo, revealing a view of themselves as seen through each other's eyes. Afterwards the group explained to Sir Nicholas how it all worked and what it meant to them.
They loved it… especially showing what they had done in the FACT centre…they were like the stars of the night - Teacher, Laura Riley.
The Machine To Be Another (TMTBA)
TMTBA normally requires two expert adult facilitators, but over the course of year, the group split different tasks between themselves and found new ways to move and communicate with participants depending on the space they were in. They swapped bodies with each other, then learned to further facilitate the experience by swapping their classmates, teachers, families and finally students from the rest of the school.
Often artists ask children to contribute ideas at the early stage of a project to inform the production of an artwork at some other time and place away from the classroom. BAL weren't asking the young people to help them to invent a VR body swap experience or speculate on how one could be used in future. The Machine as an interactive system and a live performance had already been invented, but it is only through its use as an exchange of experience between particular people in particular times and places that it comes to life. The artists were asking the young people to activate their artwork, by finding their own way to facilitate it, in the here and now, in school, during lesson time, with the people and in the places that meant the most to them.
Artists asked young people to activate their artwork here and now, with people and places that mean the most to them. The two most meaningful places we could find to share their body swapping knowledge were; our gallery during a VIP visit and their playground at break time.
Outcomes
The participants are part of the Small Learning Community (SLC) which caters for vulnerable students with Special Educational Needs. By becoming custodians of TMTBA and sharing how to facilitate the machine so skilfully in a packed playground, they were able to create a new role for themselves in the eyes of their peers. As well as being the nurture group, they are now known as the 'VR body swap group'.
For future projects I'll be asking myself, how skill sharing can be used by young people as a way to create a new role, even a new identity for themselves within their community?
To find out more about FACT's work go to www.fact.co.uk/learning
Check out our Arts Award Digital arts guidance and factsheet
Related posts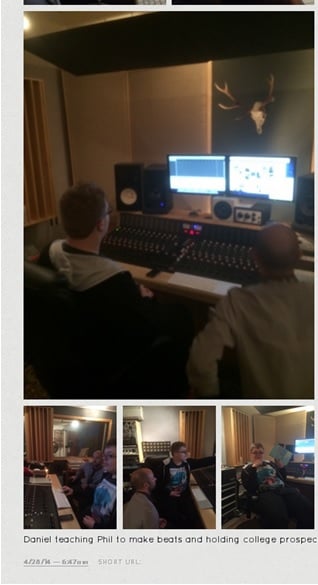 BY: Alan Lynch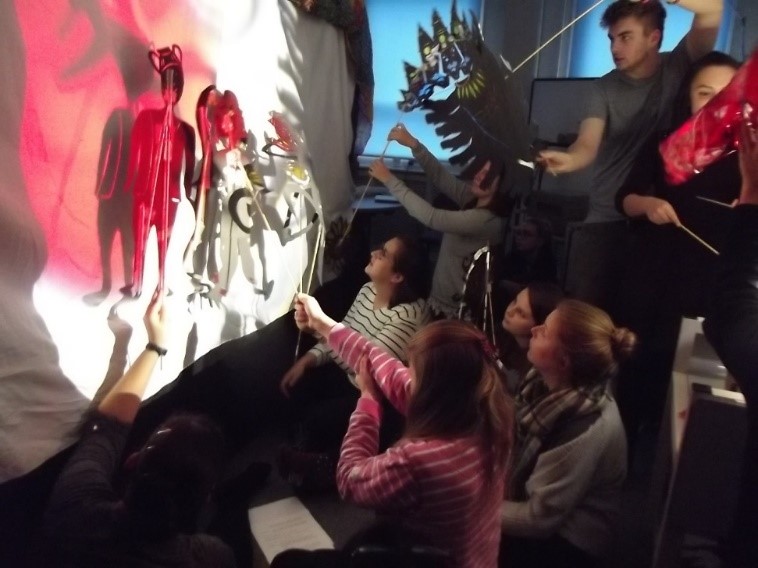 BY: Guest Writer